Four shaft shredder (FS180 Series)
The four shaft shredder is applicable for the most size reduction and heavy duty applications. The special cutting shaft structure allows for simultaneous pre-shredding and secondary shredding, which significantly improves the production efficiency.
Online Inquiry
Description
FS180 series are heavy-duty machines. They have advantages in standardization and modularization design, high interchangeability for their components. Their blades are made of special alloy steel with high strength, strong antiwear and reparability. The drive part takes advantage of 4 motors, heavy planet gear boxes to make main shafts rotate at different speeds. The electric part takes advantage of SIEMENS PLC program and touch screen control with video monitor system and the automatic detecting overload protection function. They have low rotation speed, big torque and low noise characters. So they have won customers' trust and got popularity in the shredding process in the recycle industry
They fit for shredding large and hard objects such as car body,solid industrial waste ,medical waste, e-waste, plastic pail, plastic frame, plastic bottle, metal can, metal pail, intertexture bag, fridge, electric circuit board, paper box, wood and so on.

-Bucket products: plastic bucket, metal drum, paint bucket, intermediate -bulk container (IBC) and dustbin
-Wastes: household waste, medical waste, kitchen waste, industrial waste, park waste
-Plastic products: plastic bottle, plastic frame, plastic block, plastic can
-Metal products: aluminum profile, oil filter, car shell, pop-top can, metal can
-Paper: newspaper, card paper, corrugated paper, copy paper
-Electronic appliances: refrigerator, circuit board, laptop shell, TV set shell, CD disk
-Glass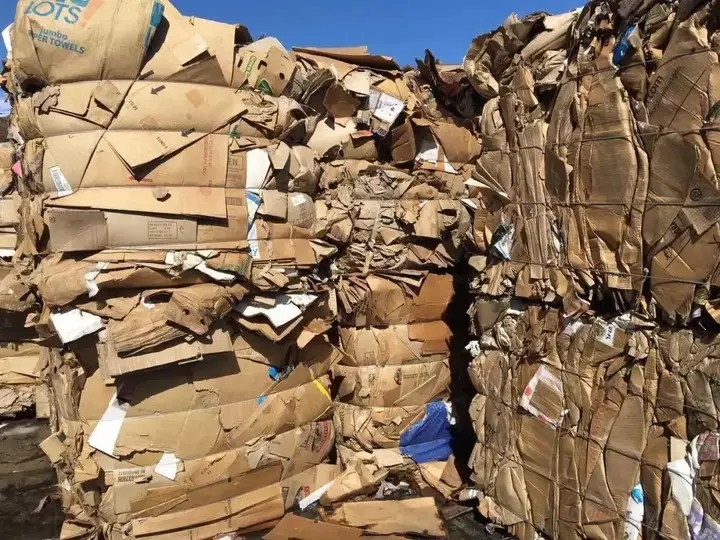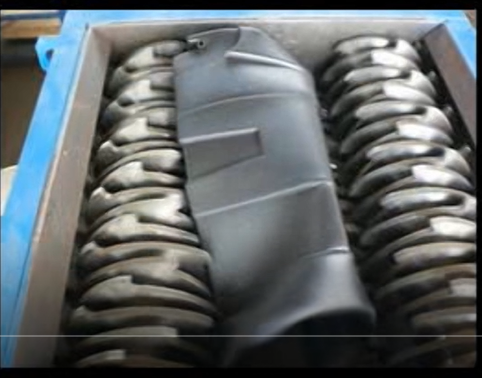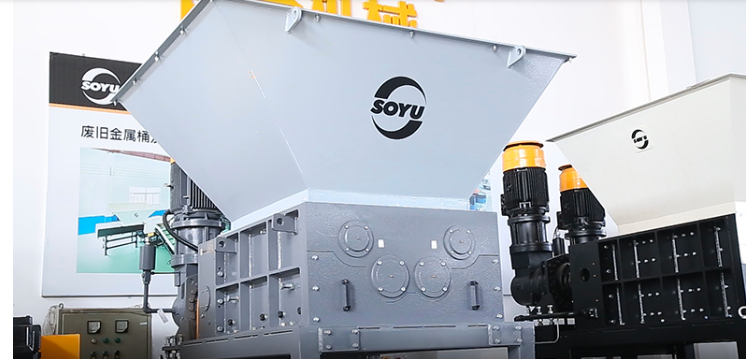 Features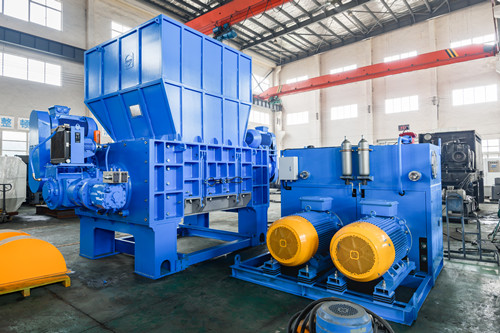 Hydraulic ram
Hydraulic ram: ideal for processing large hollow products. Improves the throughput.
Drive train
Drive train: hydraulic drive or motor drive is available to suit different applications.
Screen unit
Screen unit: screens with a variety of structures and mesh hole sizes are selectable. Side pull screen can be provided for easy maintenance.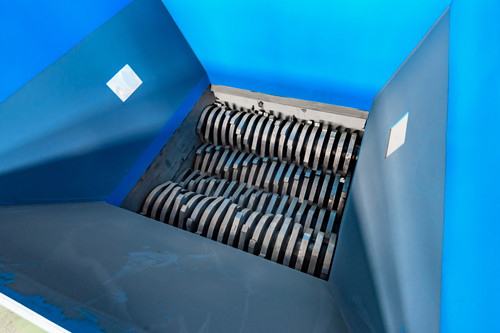 Rotor:
Rotor: "V" spiral arrangement cutter blades bring uniform shredding forces. Auxiliary blades can automatically clean the main blades. The two-side abrasion-resistant sidewall liners are made from HARDOX wear-resistant steel plates.

Sealing system
Sealing system: multiple sealing structure can effectively prevent material pollution. The superior bearing is durable and sturdy.

Electric system
Electric system: SIEMENS PLC control offers auto detection and overload protection functions. The main electronic components are all from international famous brands.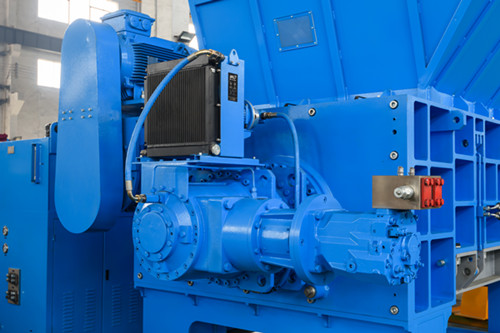 Parameters

Model
Motor power
Main blade thickness
Main blade rotation diameter
Cutting chamber dimensions(mm)
Overall dimensions(LxWxH)(mm)
Weight
FS4030
1.5KW
18.5mm
φ180mm
400x300mm
850x600x1650mm
1600kg
FS6650
7.5KW
18.5mm
φ230mm
660x500mm
1600x800x1940mm
1000kg
FS8040
2x11KW
18.5mm
φ245mm
800x400mm
1940x1200x2065mm
1600kg
FS8060
2x11KW
800x600mm
2130x1200x2065mm
1800kg
FS8080
2x11KW
800x800mm
2360x1200x2065mm
2000kg
FS9080
2x22KW
25mm
φ290mm
900x800mm
2690x1450x2450mm
3500kg
FS90100
2x22KW
900x1000mm
2890x1450x2450mm
4200kg
FS10080
2x30KW
40mm
φ320mm
1000x800mm
2620x1800x2500mm
5000kg
FS100100
2x30KW
1000x1000mm
2820x1800x2500mm
5500kg
FS100120
2x30KW
1000x1200mm
3020x1800x2500mm
6000kg
FS100140
2x30KW
1000x1400mm
3220x1800x2500mm
6500kg
FS130100
2x15+2x30KW
50mm
φ430mm
1300x1000mm
3550x2000x3100mm
11500kg
FS130120
2x15+2x30KW
1300x1200mm
3650x2000x3100mm
12500kg
FS130140
2x15+2x37KW
1300x1400mm
3850x2000x3100mm
13500kg
FS130180
2x15+2x37KW
1300x1800mm
4250x2000x3100mm
15500kg
FS160140
2x30+2x45KW
50mm
φ534mm
1600x1400mm
4160x2200x3630mm
17000kg
FS160160
2x30+2x45KW
1600x1600mm
4360x2200x3630mm
18000kg
FS160200
2x30+2x55KW
1600x2000mm
4560x2200x3630mm
19000kg
Cases